Event Recap
What a fantastic day it was, huge turn out and great fun all round!
Everything went very smoothly and all tournaments ran as planned

A lot of thanks must be giving to numerous people for making sure an event like this happened, without there help there would have been no event, or it would have been a lot more difficult to run
Incredible Thanks toChris
: For organising the whole event and insuring all tournaments were running smoothly the whole day

Alan
: Alan was incredibly nice to work behind the bar all day and insureing all members and attendees had enough drink and food to last them the day, and also for helping manage the whole day!


Stef
: Stef was very busy all day cleaning all the time and made great tournament sign up sheets, Thank you for your hard work

Craig
: Thanks a million Craig for allowing us to use your sound system, defiantly made a huge difference to getting people attention much Quicker: lol: Was great for announcements and keeping the tournaments on track

All members who brought Equipment
Thank all of you so much for bringing so much gear with all of you, as i was saying most of the night "Thiers so Many TV'S!!"

without all of the equipment the event wouldn't have been possible so thank you all so much


All Committee members
This is just an all round thanks for everyone who is part of our committee, We all worked really well and kept everything in line and I just want to thank you all for helping out so much!

Final Thanks to Everyone who attended
Everyone who attended our event thank you so much, without out so much interest it wouldn't be possible to run such an event so thank you

We all hope you enjoyed yourself and will come back again for another Blast!

After such a great day there's no doubt there will be more in future! Keep yourself up to date on these forums to see when the next one is planned
Remember we are still running an Extended Gaming Day this Tuesday at 18:00 to 1:00, so if you loved yesterday your sure to enjoy Tuesday

Daire
Site Moderator





Posts

: 88


Join date

: 2010-10-05


Age

: 27



Totally had a fantastic time. And now I can't wait till Tuesday for the next one.
_________________
Sir Spamsalot





Posts

: 189


Join date

: 2011-03-16


Age

: 34


Location

: Coleraine



!!All Tournament Winners!!
*Beat'em Up Tournament* Hosted By Stuart Mclain
Winner - Jamie Mcneil

*Pokemon Tournament* & *Smash Bros Brawl* Hosted By Clarke Young
Winner - Barry Mcguinness
*Call of Duty Black Ops Tournament* Hosted By Daire Gribbin
Winner - Rock Shek
*Yu-Gi-Oh Tournament*
Hosted by Dave Madden[/b]
Winner - Barry Mcguinness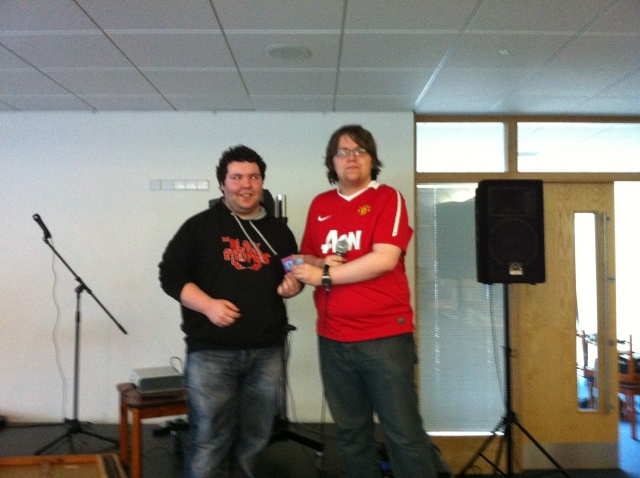 Thanks everyone for Participating

Site Moderator





Posts

: 88


Join date

: 2010-10-05


Age

: 27





Similar topics
---
Permissions in this forum:
You
cannot
reply to topics in this forum