This is the thread for the D&D campaign I'm hoping to get going, as mentioned during Saturday's session. I'll give a brief overview of the world and the characters that will be available to play. Please make sure you read everything and then if there are any questions get hold of me.

Setting:
The game takes place in the vast, stunning world of Balaia, on the Northernmost continent. The world is ruled by magic and the conflicting ideals of the four magical colleges, Xetesk, Dordover, Julatsa and Lystern. As in any world there are petty internal conflicts that have at timed spilled over into full blown wars, and the present year is no exception. Small civil wars between the continent's various Barons flare and die often, and it's in these conflicts that the Raven make their money.

However, a new, unthinkable test has arisen for the Raven. An ancient evil, imprisoned for years having nearly destroyed Balaia centuries previous has been unleashed to wreak havoc once again. The Raven are tasked with the impossible, find a way to defeat what cannot be defeated...

The Raven

The Raven are a very close knit group of friends. They share an utter belief that they will succeed in what they choose to do simply because they are The Raven.
Their code of conduct is such that they will never commit an act of murder, never take an action without consulting the rest of the group and will trust one another with their lives.
Nothing is more important to them then their group and whilst they will fight for country, plane and the greater good of their world; it is wholly because of their love for one another that they decide on which missions to undertake. Even then the matter is discussed by The Raven as a whole before it is acted upon and all major decisions for the group are discussed openly amongst them.
They all devote themselves entirely to each other, such that should any one of them need help then the others will let nothing stand in their way to give it, even war or death.

The Unknown Warrior
The Unknown Warrior appears to act as the leader and tactician of the Raven. He is an extremely tall and strong man and a fearsome warrior. His preferred weapon is a two-handed sword, and his trademark is to rhythmically tap the point of his sword on the ground before battle to clear his head. He often acts as the level-headed member of the Raven, silencing them, breaking up squabbles and so on when needed.

Hirad Coldheart
Hirad is the Raven's other warrior, a barbarian who lives to fight. He fights with a sword and enjoys roaring during battle to intimidate the enemy and to clear his head. He is an exceptionally strong warrior who's strength and endurance is unparalleled outside of the Raven.

Ilkar
Ilkar is the first of the Raven's mages, an elf and a Julatsan mage. During battles he usually provides defence from magical attack through a spell named SpellShield although he provides offense on many occasions as well.

Erienne
Erienne is a Dordovan mage. She provides several offensive spells for the Raven as well as HardShield to protect them from projectiles such as arrows. Her specialties are several healing spells, which the Raven often need after their battles.

Denser
Denser is the third Raven mage. He belongs to the Dark College of Mage, Xetesk. Initially he is not a member of the Raven, but slowly becomes closer and closer to them until his allegiance switches away from his college and he becomes a member of the Raven. He is proficient at casting many offensive spells and is revered as one of the best mages in Balaia. He also has a demon familiar, which takes the shape of a cat from day-to-day.

Jandyr
Jandyr fills the much desired position of elven bowman within the Raven. His enhanced elven sight means that he barely ever misses his targets.

Will Begman
Will Begman is a thief who joins and helps the Raven. He fights with two small daggers, and sneaks with almost insurmountable stealth. He is also a proficient warrior and is by deceptively dangerous in a fight.

Thraun
Thraun is a shapechanger, who can change between being a man and a wolf. His best friend is Will and he joins the Raven at the same time. Will his the only man he trusts to bring him back from being a wolf, which Will does by saying the word 'Remember' to him. He is a very strong man, a good fighter and as a wolf extremely dangerous. He is almost invulnerable due to being a shapechanger. (Thraun is subject to approval of whether he can fit into the game or not)

All of these characters appear within the book, and I'm offering these out as characters that will make the game a more rounded experience because it will make for a better story and therefore a more enjoyable campaign. However, if you really don't want to play one of these characters then I will allow for new characters to be made in place of the pre-gens.

I will say that this will be quite heavy on the roleplaying and I reckon that if you get under the skin of the characters by playing them that you will love the game.

The characters will begin at lv.6, and if the game is popular enough that we make it to the end then we will hopefully be around level 15. If you choose one of the pre-gens I will give you a ready made character sheet before the first session that will include all stats, skills and feats for you to read over before we get going.

So, that's me done! Let me know if that sparks your interest, I promise you that the story is fantastic and develops at a frenetic rate, including some epic battles and a touch of things you may not have seen before. Put your name forward for a character if you like the look of it and we'll move on from there.

Have fun,
Your (potential) DM.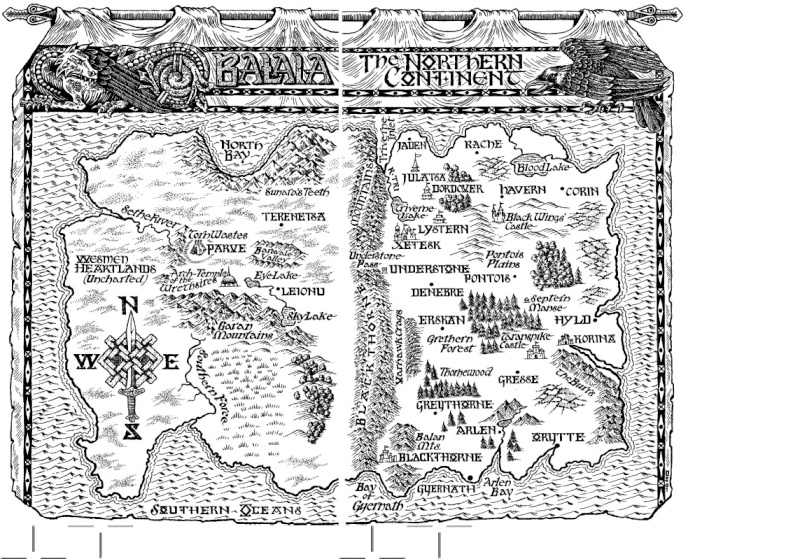 This is a map of the continent, for anyone who is interested.
Also, PLEASE don't look up the series or the story on Wikipedia or any similar site, because you'll just ruin the game for yourself with spoilers and such. I know if you're interested you naturally want to know more, but all will be revealed in time, and wouldn't you rather be surprised?
Oh Em Gee!

That sounds SO much fun it's not even funny anymore!
Raaarrgh!




Posts

: 59


Join date

: 2011-03-29


Age

: 30



looks good.

I'll put my hand up for the Unknown.



Posts

: 22


Join date

: 2011-03-29


Age

: 42


Location

: My hat/ My home



Sounds very intersting indeed

I shall claim the place of Jandyr (Cant imagine that was'nt obvious

)

Site Moderator





Posts

: 88


Join date

: 2010-10-05


Age

: 27



Good to see some interest in the game

Yes Daire, I may have guessed that you'd have chosen Jandyr, you seem to like the Elven bowmen! Martin, the Unknown is yours, an interesting character to play, and a role I think you'll relish.
Sorry for making it sound so good Petrus, if it makes it any better we'll all say it's terrible after the first session if you like?




Posts

: 17


Join date

: 2011-03-23



I'd like to put my name down for Thraun, if he is premitted if not then Denser would be my character of choice.

If you would like me to start work on the characters Zakk, rules wise, I'd be more than happy too. I will say here and now there will need to be some tweeking of the class, some will just require a few minor changes others well require more work. But I'm more than happy to tackle it.




Posts

: 66


Join date

: 2011-03-16


Age

: 32


Location

: Through the looking glass, 1st on the left...




---
Permissions in this forum:
You
cannot
reply to topics in this forum